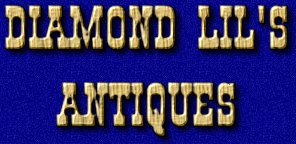 Welcome to our Shop of Antiques.



Look through our Antiques
Check the Book Price then our Asking Price then Email Me and Make Me an Offer.


RARE BEATLES ALBUM
Book Price $5000.00 Asking $3000.00
Serious Bargainers Only...Its the Real Thing!
Very Good Condition...Album still in Paper Jacket!
Click on Thumbnails for Larger Image



BANNER FROM THE 1984 LA OLYMPICS
Auctioned at the Courthouse
Asking $750.00 But Lets Negotiate
Excellent Condition!
Click on Thumbnail to see Larger Image



BUCK ROGERS BATTLE CRUISER
Book Price $600.00 Asking $425.00
Very Good Condition



1st EDITION COMIC BOOKS
Make Me an Offer...But Don't Make Me Laugh!
Amazing Adventures & Walt Disney's Donald Duck

Amazing Adventures
Published by Atlas Magazines Inc.
Vol. 1 No. 1 June 1961 Issue


Donald Duck
Published by Dell Publishing Co.
No. 1 March-May, 1958




Rod & Sultana Hall
P.O. Box 294
Oatman, Arizona 86433
(928) 234-7335


HOME

OUTLAW WILLIES


DIAMOND LIL'S

WEDDINGS

OUTLAW GUNFIGHTERS

LINKS

OUTLAW WILLIE™ COPYRIGHT© 2001-2018. ALL RIGHTS RESERVED.